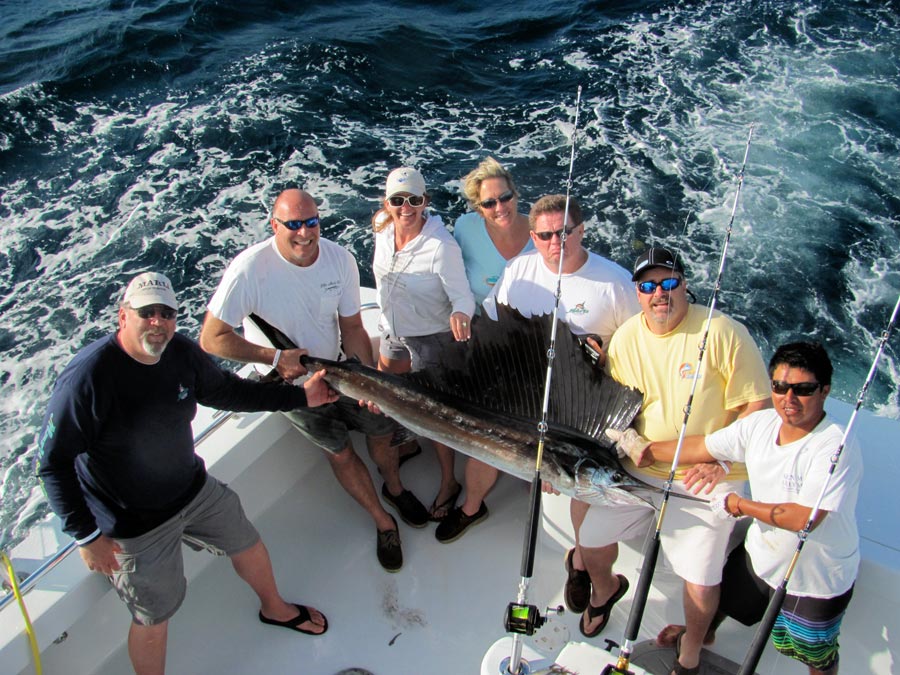 Imagine spending a few winter days on a small tropical island where the lifestyle is relaxed, the locals are friendly and the sailfishing is HOT!
For years the Country Girl has been heading down to beautiful Isla Mujeres in Mexico to put our clients on some of the most consistent sailfishing we've seen in one of the best winter getaway spots we know.
When you fish with us in Mexico we provide everything you need: Bait, tackle, lunch, snacks and drinks for the day. More than likely you won't even need your lucky fishing shirt — Isla sailfishing is almost always a sure thing. We specialize in light-tackle fishing using TLD 20s with 25 lb test line on stand-up rods.
Anglers are always telling us how much they would like to hook their own fish. We can say enthusiastically that this is the place to do it! With 10 to 50-plus shots a day, Isla Mujeres is one of the greatest places in the world to become proficient at hooking billfish. Angler participation is something we highly encourage and we're always happy to assist anglers who want to learn the techniques of hooking their own fish.
Isla Mujeres is very easy to reach. After flying into Cancun it's just a 20-minute ferry ride away. It's vastly different from the busy atmosphere of Cancun, however. You'll find comfortable accommodations, great food and a walkable atmosphere. If you're bringing the family or non-anglers, there's plenty for them to do, including pristine beaches, snorkeling, a turtle hospital and activities in town.
We're looking forward to another great year in Isla Mujeres and we hope you'll join us. In January and February, while everyone else is by the fire reading their fishing magazines, you'll be on the water in a tropical paradise, living the dream!
Give us a call for questions or to reserve your spot!